Exercise Report : ASTRAL KNIGHT 2021 – Aviano AB, Italy
Exercise ASTRAL KNIGHT 2021 – Aviano AB
In May 2021 exercise Astral Knight took place again over and around the Adriatic Sea led by the USAFE. Aviano AB in Italy, home of the 31st Fighter Wing, hosted a media day on May 21. Report by Renzo Del Bianco and Valter Marchetti.
ASTRAL KNIGHT is a U.S. Air Forces in Europe-Air Forces Africa-led NATO Integrated Air and Missile Defence (IAMD) exercise aimed to provide joint training to enhance the Command-and-Control (C2) integration, coordination and interoperability of air, land and sea components, while focusing on the defense of key areas by air assets integrated with short and long-range surface-based air defense systems.
On April 20, 2021, commanders from six NATO nations had attended a two-day Command and Control Commanders Conference (C2CC) in Chania, Crete, to discuss IAMD coordination in the southern European region. The C2CC was held in preparation of the USAFE-led exercise to provide a venue for commanders to collaborate, bringing their ideas, experiences, and discussions to the table to get a big picture of what they could expect and develop during Astral Knight 2021.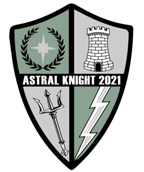 The 2021 edition of Astral Knight took place from May 13 to May 21, 2021. Approximately 1200 airmen, soldiers and sailors from U.S. Air Forces in Europe-Air Forces Africa, U.S. Army Europe-Africa, U.S. Special Operations Command Europe, U.S. Naval Forces Europe worked together with members from the Albanian, Croatian, Hellenic, Italian, and Slovenian armed forces. The exercise was conducted over and around the Adriatic Sea and saw participation by 4th and 5th generation fighters, support aircraft, U.S. Navy guided missile destroyers, and U.S. Army surface-based air defense systems.
Participating aircraft included:
USAF F-16C Fighting Falcons of the 555th Fighter Squadron / 31st Fighter Wing operating from Aviano AB
USAF HH-60G Pave Hawk helicopters of the 56th Rescue Squadron / 31st Fighter Wing deployed to Cerklje AB, Slovenia
USAF F-15C/D Eagles from 493rd Fighter Squadron / 48th Fighter Wing deployed to Larissa air base, Greece
USAF C-130J Hercules of the 37th Airlift Squadron / 86th Airlift Wing, operating from various locations
Italian Air Force F-35A Lightning IIs belonging to 13° Gruppo / 32° Stormo from Amendola "Luigi Rovelli" air base
Hellenic Air Force F-16C Fighting Falcons and an EMB-145 Erieye operating from their respective home bases in Greece
Croatian Air Force MiG-21bis-D/UD operating from their home base at Zagreb/Pleso air base, Croatia
The USAF 48th Fighter Wing based at RAF Lakenheath, United Kingdom, deployed 12 F-15C/D Eagles and more than 250 Airmen from the 493rd Fighter Squadron, 748th Aircraft Maintenance Squadron and other supporting units to Larissa air base in Greece. In addition to participating in exercise Astral Knight 2021, the 493rd Fighter Squadron also flew training missions with the Hellenic Air Force while at Larissa. See also Exercise Early Bird / Astral Knight 2021 - Larissa
At Cerklje AB, Slovenia, the 56th Rescue Squadron HH-60G Pave Hawk CSAR helicopters flew missions over the Adriatic Sea. According to Lt. Col. Mike Kingry, 56th RS Commander, "AK21 allowed the squadron to focus in the integration with partner nations and enabled the personnel to work and interact with different types of scenarios. The helis performed planned orbits in specific areas waiting for the Blue Forces acting like DCA (Defensive Counter Air), for being ready in case of real emergencies, in case a pilot needs to eject from his aircraft. It has been a welcome comeback to international exercises, after a year affected by the Coronavirus pandemic".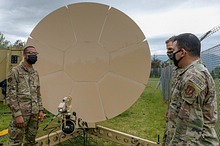 The non-flying units played an essential role in the exercise. The 606th Air Control Squadron / 31st Fighter Wing, callsign "Primo", which is the U.S. Air Force's only Control and Reporting Center outside the continental United States, provided tactical command and control. Two 606th Air Control Squadron (ACS) teams were operating out of forward-deployment locations in Slovenia and Croatia, while at Aviano AB, the 606th ACS was on active stand-by to provide backup air control for the forward-deployed teams. The 606th ACS utilized the Theater Operationally Resilient Command and Control (TORCC) system, which relays IAMD capabilities and command and control information to pilots, including directions for missions and threat awareness. While in Croatia, the full component suite of the agile C2 system was utilized for the first time ever in a major exercise.
U.S. Army Europe and Africa, the 5th Battalion, 7th Air Defense Artillery's U.S. Army Patriot Missile Systems arrived in Croatia May 17, to employed the system in the exercises Astral Knight 21 and Immediate Response 21, both associated to large-scale U.S. Army-led exercise DEFENDER-Europe 21, which involved more than 28,000 multinational forces from 26 nations, conducting simultaneous operations across more than 30 training areas in more than a dozen countries, from the Baltics to Balkans and Black Sea Region.
On Friday morning, May 21, the media day for Astral Knight 2021 took place at Aviano AB with the opportunity to attend the take-off of a flight of 555th FS F-16Cs, all carrying their typical Defensive Counter Air weapons configuration of two AIM-9X Sidewinders and two AIM-120C AMRAAMs. The static display composed a couple of 31st Fighter Wing F-16Cs from both the 555th Fighting Squadron "Triple Nickel" and the 510th Fighter Squadron "Buzzards", featuring the new "Have Glass V" paint scheme. Also, a single HH-60G Pave Hawk from 56th Rescue Squadron was set up inside Hangar #1 for display to the attendees.
Typical missions lasted about four hours with two air-refuelings in designated areas over the Adriatic Sea, provided by 100th Air Refueling Wing KC-135R or the KC-46A, the latter coming from Air Refueling Squadrons that have begun their rotational deployments to the European theatre with the new tanker. Flying activity on the exercise days consisted of a morning and afternoon mission.
A maintainer from 555th Fighter Squadron told us about the maintenance's personnel work during the exercise: "The role of maintainers is to support the mission. We inspect the aircraft and make sure that all is working fine. In this scenario, the aircraft are flying longer missions than usual, and this means more work for us. An exercise like this brings a lot of benefits for both pilots and maintainers. Pilots have the opportunity to train with fifth generation fighters, and the maintainers are proud to maintain and sustain an aircraft like the F-16 older than the F-35, but constantly improved in all its operational characteristics over 30-plus years of service".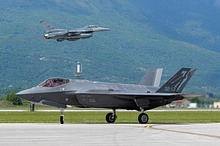 On May 20 and 21, two Italian Air Force F-35A Lightning II, belonging to the 13° Gruppo / 32° Stormo, from Amendola "Luigi Rovelli" AB, deployed to Aviano AB in support of Astral Knight 2021. While at Aviano, some F-35 crew chiefs coming from Hill, Eglin, Eielson and Luke AFB performed hot-pit refueling and interoperation servicing, before the jets took off again to perform another mission. During hot-pit refueling the jet keeps its engine running while it is being fueled. "European nations in the F-35 program will have 5th generation inventory that is outnumbering U.S. Air Force F-35s based in Europe, so it becomes much more important to learn how to interoperate with partners", said Chief Master Sgt. Derek Conrad, 5th generation integration team maintenance and logistic liaison, Headquarters U.S. Air Forces in Europe-Air Forces Africa.
The Italian Air Force 13° Gruppo Commander said with regards to the F-35 inventory build-up that: "On the other hand, 4th generation aircraft such as F-16s, F-15s and EF-2000s, will be in service for a long time, so the Italian Air Force, just like the U.S. Air Force, is strongly focused on the integration activity between 4th and 5th generation aircraft. Exercises like this play a fundamental role in building upon the nations' joint capabilities, ensuring enhanced interoperability, the more the partnership will strengthen and the more the NATO nations will become a unified force, ready to carry out the assigned tasks for the protection of NATO airspace."
Sources: U.S. Air Forces in Europe & Air Forces Africa Public Affairs; 31st FW/PA; Allied Air Command Public Affairs Office
Report by Renzo Del Bianco and Valter Marchetti. Photos by Renzo Del Bianco and Valter Marchetti, George Karavantos, U.S. Air Force, U.S. Army.
First Published: 12 July 2021
Last Modified: 24 July 2021

Update log
24 July 2021 - Added link to Larissa report