Photo Report : Operation Reassurance 2021 - RCAF Hornets in Romania
Operation REASSURANCE 2021
Royal Canadian Air Force Hornets in Romania
In 2021 Canadian Hornets again co-operated with the Romanian Air Force in safeguarding NATO airspace over the Black Sea under the Operation Reassurance, which is Canada's contribution to NATO Air Policing duties. George Karavantos reports.
NATO ensures the integrity, safety and security of its member nations' airspace by maintaining a 24/7/365 Air Policing mission, overseen by Allied Air Command. The airspace over Europe sees an average of about 30,000 air movements per day, making it one of the busiest airspaces in the world. Any aircraft flying inside or approaching European NATO airspace that are unidentified, either through loss or intentional omission of communication with Air Traffic Control creates an unsafe environment foremost and also deteriorates the integrity of the alliance's air defence security.
As part of these assurance measures, NATO's Air Policing mission is enhanced across two implementation areas. NATO members are called upon to supplement the existing Baltic Air Policing capabilities in the northern implementation area and, in parallel, augmenting national Air Policing capabilities in the southern implementation area.
Since 2014, Baltic Air Policing, based at Šiauliai, Lithuania have been augmented by a second detachment, based at Ämari, Estonia. In the South, Romania's and Bulgaria's national Air Policing capabilities are and have been temporarily augmented by detachments from various Allied air forces.
The Combined Air Operations Centre Torrejón located at Torrejón Air Force Base, northeast of Madrid, Spain, is responsible for planning, directing, coordination, monitoring, analysing and reporting on the Air Policing operations in peace time. The centre's area of responsibility comprises European NATO airspace south of the Alps. Hence, the Combined Air Operations Centre Torrejón is responsible for some of NATO's special Air Policing arrangements, such as Air Policing over Slovenia, Montenegro, and the augmentation in Romania.
Operation Reassurance was once again Canada's contribution to the needs of NATO in policing Europe's airspace. For its sixth time the Royal Canadian Air Force (RCAF) has deployed an Air Task Force to Romania. The Canadian Air Task Force has been based at Baza 57 Aeriană Mihail Kogălniceanu, near the Black Sea Coast in Romania to augment and support the Romanian Air Force's own Quick Reaction Alert mission.
The First deployment was at Câmpia Turzii in 2014, then at Mihail Kogălniceanu Air Base near Constanța in 2017, 2018, 2019, 2020, and now 2021. Approximately 150 CAF personnel and six CF-188 Hornets (five single-seat CF-188As and one CF-188B two-seater) conducted the three month deployment, running from September 1st until November 30th, 2021.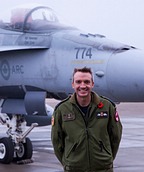 Lieutenant Colonel Mask, Commander of the Air Task Force Romania said: "We are happy to return to Romania once again, collaborating with our allies in the Romanian Air Force, as well as our other NATO partners in the region." He added: "It's a huge task and challenge for an Air Arm which is so far away from Europe to mobilize such a force and come here to fly and safeguard. This clearly demonstrates the versatility and inherent teamwork of the Canadian Air Force. It is also a huge opportunity, for us, the pilots, to fly and guard airspaces with other allies that we have never trained before".
In 2017 the Romanian Air Force acquired 17 used F-16AM/BM aircraft from Portugal to supplement the upgraded but outdated MiG-21 LanceRs to bring its air defence and air policing capabilities up.
Report and photos by George Karavantos ( view portfolio )
First Published: 9 January 2022
Last Modified: 9 January 2022