AMX International AMX
Role: ground attack, recce, advanced training
Builder: AMX International (Alenia, Aermacchi , Embraer)
Variants: AMX, A-1, TA-1, AMX-T, AMX-ATA
Operators: Italy, Brazil
The AMX is a compact single-seat multi-role strike fighter aircraft, designed to fly low-altitude missions at high-subsonic speeds in day or night and in poor visibility. It is capable of operating from damaged or unprepared runways. It has a limited air-to-air capability and integrated ECM for self-defence.
AMX-T is the twin-seat variant of the AMX and is used as advanced trainer. The AMX-T retains the operational capabilities of the single-seat version. The Venezuelan Air Force (FAV) is planning to replace its ageing fleet of T-2A Buckeyes with the AMX-T.
The aircraft for the Brazilian Air Force (FAB) are designated A-1 (single-seat) and TA-1 (two-seat). Also the Brazilian AMX aircraft are equipped with two DEFA 544 30mm cannons, while the Italian variant is fitted with one M61A1 multi-barrel 20 mm canon.
The AMX Advanced Trainer Attack (AMX-ATA) is a new AMX two-seater, multi-mission attack fighter for combat roles and advanced training. The AMX-ATA incorporates new sensors, a forward looking infrared, helmet-mounted display, a new multi-mode radar for anti-air and anti-ship capability, and new weapon systems including anti-ship missiles and medium-range missiles.
The Brazilian A-1/TA-1 fleet is currently undergoing a mid-life upgrade. The aircraft will be designated A-1M in FAB service, The A-1M upgrade is based on the Brazilian AT-29 and the F-5M upgrade program, giving the aircraft many similarities in avionics and capabilities. The new cockpit includes three coloured MFDs, HOTAS, new multi-mode radar (the Italian Grifo F) and the capability to use smart weapons.
The Italian AMX and AMX-Ts are currently going through the ACOL upgrade program. Under the current contract, Alenia Aerospace will upgrade 43 single-seat and 12 two-seat AMX aircraft, with options for the upgrade of a further eleven aircraft. In December 2005, it was reported that four aircraft were being upgraded, and the first prototype upgrade was completed. Delivery is scheduled to start in September 2006 continuing until late 2009. The ACOL upgrade will extend the AMX operational life to 2015 and give the AMX improved combat capabilities. It includes a new inertial navigation system/GPS, GPS-guided weapons integration, new colour MFDs, updated communications and IFF, and a new computer symbol generator with digital map functions. (source: AFM Jan 2006)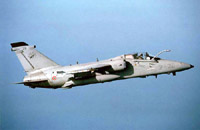 Italian AMX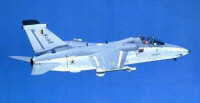 Brazilian A-1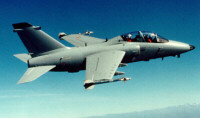 Italian AMX-T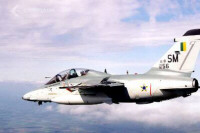 Brazilian TA-1