Grumman F-14 Tomcat
Role: carrier-borne fighter, fighter-bomber
Builder: Grumman Aerospace
Variants: F-14A, F-14A+ (F-14B), F-14D
Operators: US Navy*, Iran
* past
The F-14 Tomcat is a supersonic, twin-engine, variable sweep wing, two-place fighter designed to attack and destroy enemy aircraft at night and in all weather conditions. The F-14 can track up to 24 targets simultaneously with its advanced weapons control system and attack six with Phoenix AIM-54A missiles while continuing to scan the airspace. It can also deliver free-fall or guided bombs.
The F-14 prototype made it first flight on December 21, 1970.The first of 478 F-14A aircraft entered US Navy service in October 1972 and saw it's first operational flight in September 1974. F-14A aircraft were upgraded to the A+. The upgrade consisted of the replacement of the original Pratt & Whitney TF30-P-414A engines by the the more powerful General Electric F110-GE-400 turbofans. The F-14A+ entered service in 1987, and was later designated F-14B.
The F-14D Super Tomcat first took to the air on February 9, 1980. The upgrade included enhanced radar and cockpit, a dual IRST/TV undernose pod, and improved air-to-air missiles. In the twilight of its career, part of the US Navy's Tomcat fleet was equipped for night-attack bombing duty using the a LANTIRN (Low Altitude Navigation and Targeting InfraRed for Night) pod and guided bombs. The upgrade allowed the F-14 to remain in service and be deployed for combat, while the F/A-18E/F Super Hornet force was built up.
The US Navy and the Imperial Iranian Air Force, soon after retitled the Islamic Republic of Iran Air Force, were the only two operators of the type. A total of 79 F-14A models were exported to Iran.
The US Navy has retired the F-14 Tomcat, but Iran continues to operate a small fleet of Tomcats that have undergone overhaul and modification by the country's domestic industry.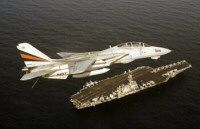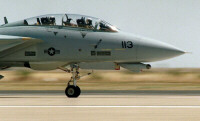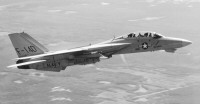 First flight F-14D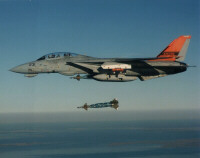 Testing GBU release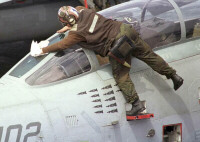 Desert Fox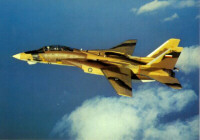 IIAF F-14A