Dassault Rafale History
France orginally was part of the EFA (European Fighter Aircraft) project, which would result in the Eurofighter of today. In 1985 France left the project and started its own development of a fighter for the next century which led to the ACX or Rafale A. Participating countries soon choose to withdraw the project because of decisions to upgrade their F-16 fleets, not needing a replacement before 2010. The Rafale prototype, A 01, first flew on 4 July 1986.
Developed from the Rafale A was the single seat Rafale C that first flew on 19 May 1991 and was followed by the Rafale M navilized version on 12 December 1991. The original plan is to order a total of 94 Cs, 78 Ms and 140 Bs. The first production aircraft Rafale B1 flew for the first time on 4 December 1998 and was delivered to the French Air Force. Deliveries are expected to run till 2009.
On April 20, 2001, a Rafale B fitted with conformal fuel tanks made its first flight.
On December 1, 2001, the French carrier Charles de Gaulle departed to support the war on terrorism with on board seven Rafale M fighters. Although the aircraft did not take part in the large-scale air combat operation over Afghanistan, they flew combat air patrols and were able to practise and test out new tactics.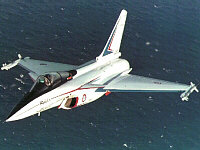 Rafale A demonstrator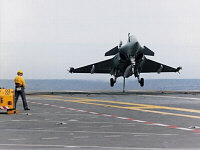 Rafale M carrier trials